7 Easy Pasta Side Dishes for Salmon
Grilled or barbequed salmon fillet is one of my favorite dishes to prepare. With lots of protein, abundance of flavor and super easy to make, grilled salmon can be an any-day meal or a special salmon dinner for entertaining company.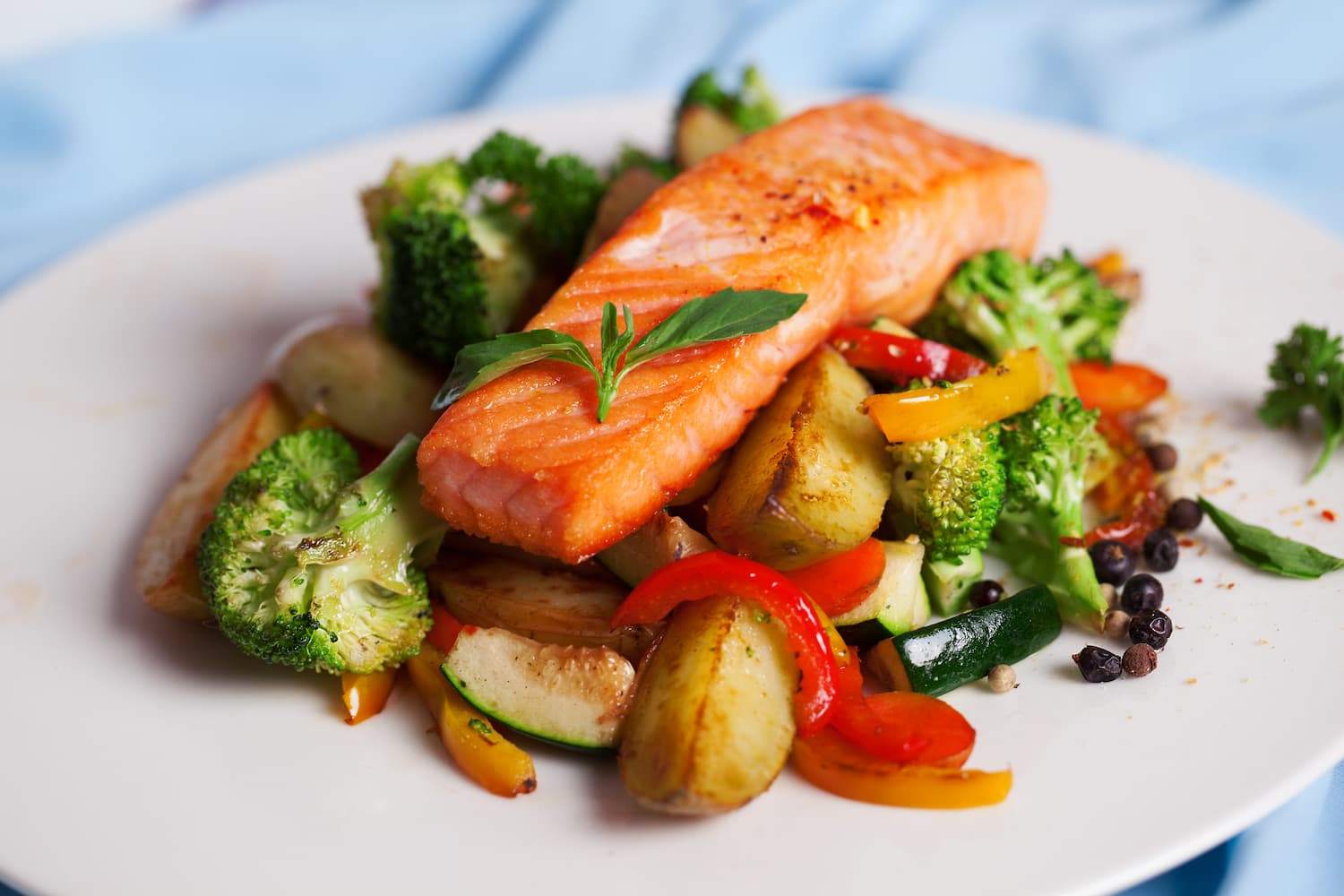 But you might be asking: What should I serve with my salmon fillet? Searching google, you'll find dozens and dozens of different pasta side dishes for salmon. Great vegetable recipes with green beans, brussels sprouts, lemon butter broccolini and other fresh vegetables..
Tasty rice dishes such as cilantro lime rice, white rice or sesame rice. And potato dishes like sweet potatoes, baby potatoes and oven roasted potatoes.
But none of these will satisfy your taste buds any better than a simple side dish of pasta. Why pasta? There are several benefits of pasta, including:
Low glycemic carboydrate
Low cost and easy to prepare
Available in a huge variety of shapes and sizes
Leftovers store well
These reasons are more than enough to elevate simple pasta to the status of perfect side dish for nearly anything, including salmon recipes.
I searched and assembled some of the best side dishes for your salmon. So without further ado, let's take a look at some of the best pasta side dishes for salmon.
1) Creamy Garlic Pasta
As good as you'll find in any restaurant, you'll love how hearty, cheesy and flavourful this 20-minute recipe tastes. Easy to make, and just a few readily available ingredients, including
Butter
Garlic
Flour
Heavy whipping cream
Chicken broth
Parmesan cheese grated
Salt and black pepper

If you think this sounds great, you'll find the full recipe right here.
2) Lemon Pasta
This 15-minute recipe has one ingredient I love: White wine. Add to that some lemon and heavy cream and you'll this easy side dish. Simple to make in a saucepan, the ingredient list is also short. In addition to pasta, you'll need:
The end result is one rich and creamy lemon pasta you can pair with pan-seared salmon or almost any other main course.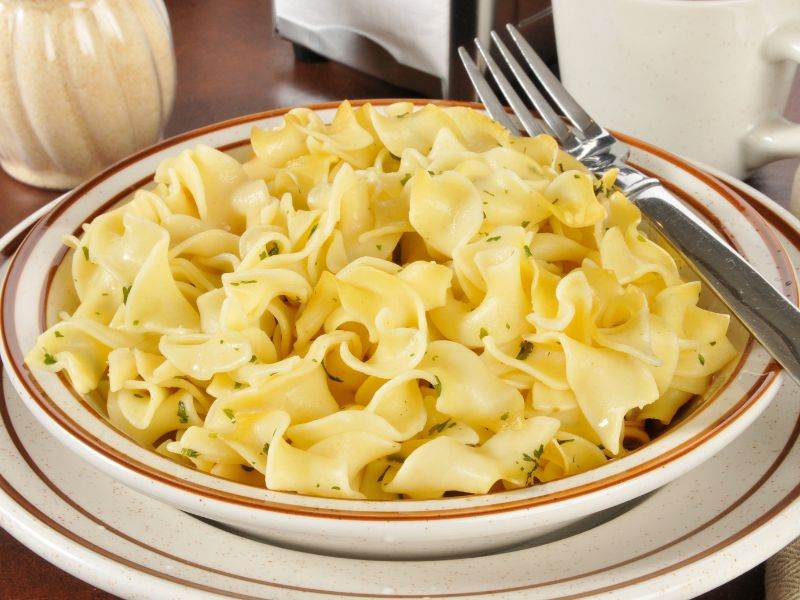 3) Garlic Butter Pasta
Definitely the simplest of all these side dishes is the easy, but flavorful garlic butter pasta. Wanna whip up something quick with simple ingredients, try this simple recipe.
Word of caution: not much tastes worse than burnt garlic. It's super bitter and will ruin any meal. So watch the butter and garlic carefully and cook it over medium heat. But the good news is that it will be done in about a minute or two. It's a great way to add some kick-butt, rich flavor to any style pasta.

Another note: If you don't have fresh garlic on hand, some foodies recommend using garlic powder.
Instead, you should now be able to find jars of pre-minced garlic in your supermarket shelves. They store well in a fridge, and ready to use anytime, and leave your fingers without the garlic smell.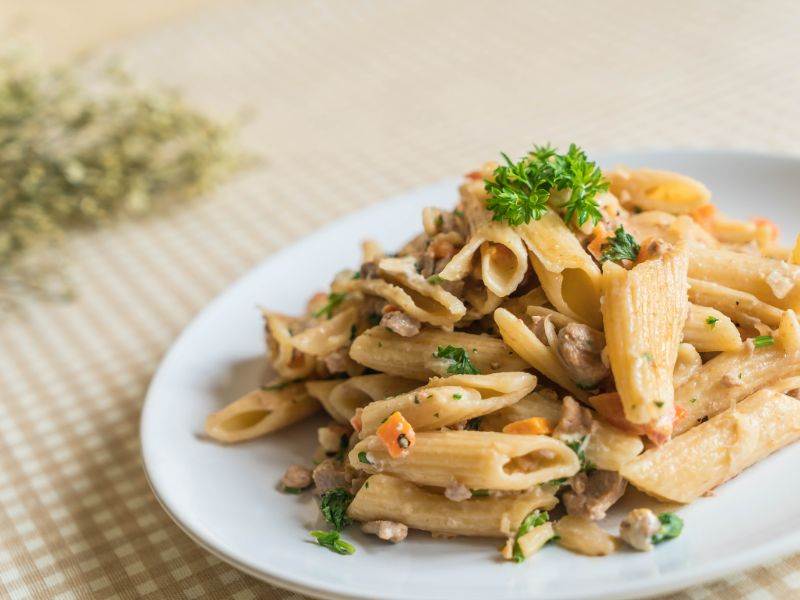 4) Cream Cheese Pasta
As soon as I saw this recipe, I knew I'd love it. In addition to the pasta, it really only has 4 ingredients:
I'll admit, I prefer rich comfort foods (much to my wife's chagrin). And this recipe fits the bill. The cream cheese, while adding a lot of rich flavor, will also add a few calories, so use sparingly. You CAN freeze any leftover creamy sauce for use at another time. This is one delicious side dish.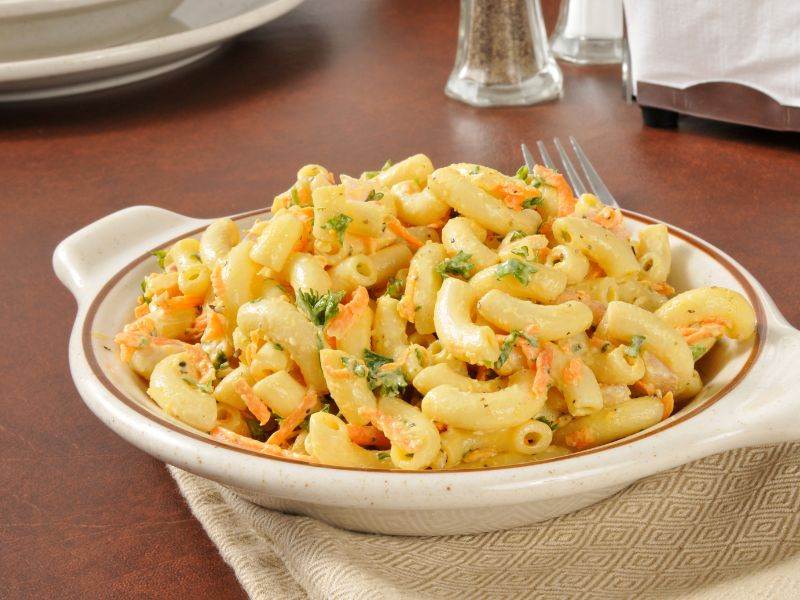 5) Macaroni Pasta Salad
This is a perfect side for my grilled salmon fillet. When it's BBQ season, everyone loves macaroni pasta salad. This recipe does have a few more steps and ingredients, but is well worth the effort.
The best thing: Mix a big bowl of this and refrigerate the left-overs, which should last 3 to 4 days easy. The result can be served with nearly anything in the summer from burgers, hot dogs and steaks to chicken or your favorite fish dishes.
The ingredients are
Red Onions
Red Bell Peppers
Green Onions
Celery
Fresh Herbs
Mayonnaise
Sour cream
Dijon Mustard
White wine vinegar
Brown sugar
Garlic powder
Black pepper
Trust me, it's gonna be a family favorite next grilling season.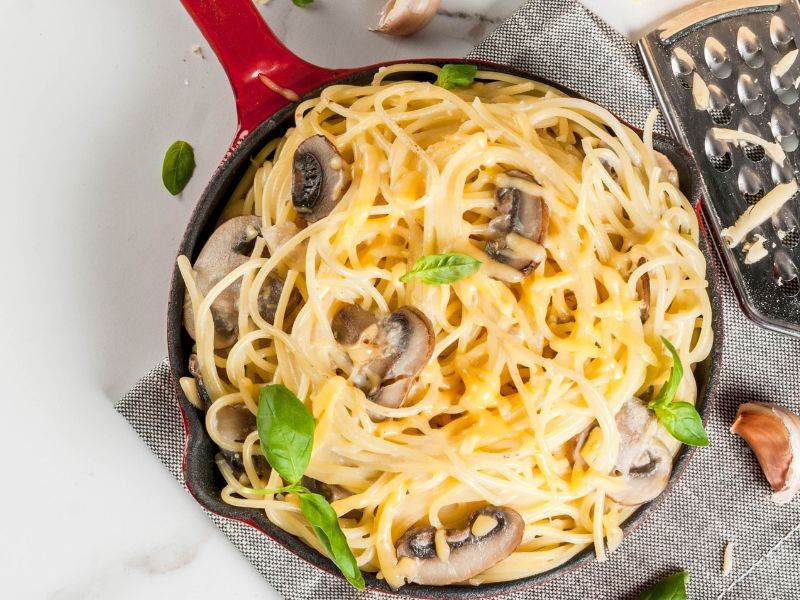 6) Creamy Mushroom Pasta
I love mushrooms. So it was an added bonus when I learned that it's actual good for you. Filled with nutrients, fibre, vitamins and minerals, all the while being low-calorie, cholesterol-free, and fat-free.
Plus admit it…..the dish looks awesome. It takes about 20 minutes to make, but once again, left overs store well in a fridge and can be used for the next few days. Ingredients include:
Olive oil
Brown mushrooms
Salt and pepper
Butter
Garlic
Flour
Heavy cream
Parmesan cheese
Fresh parsley
I think it might be one of the best looking and tasting of all the salmon side dishes listed here.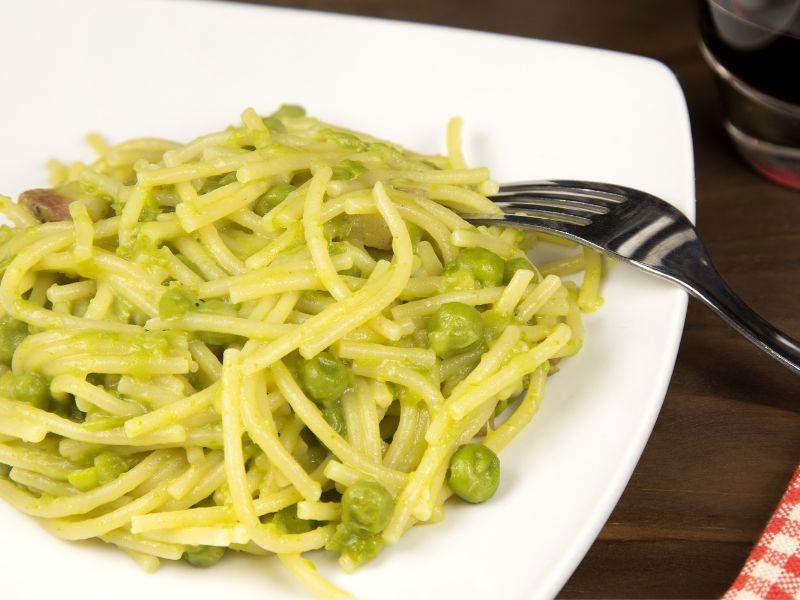 7) Pasta with peas
Wanna make a quick side dish that includes vegetables as well? This simple recipe only takes 5 minutes to prep and another 25 to cook. The result is a colorful tasty dish that pairs well with a variety of main courses..
Ingredients include:
The result, when paired with your favorite main course, is a healthy meal your family will love.
I hope you enjoy this aggregation of some of the best and healthy pasta side dishes for salmon.
For a great recipe of how to prepare grilled salmon, go to our 'Simple & Delicious BBQ Salmon Fillet' article.